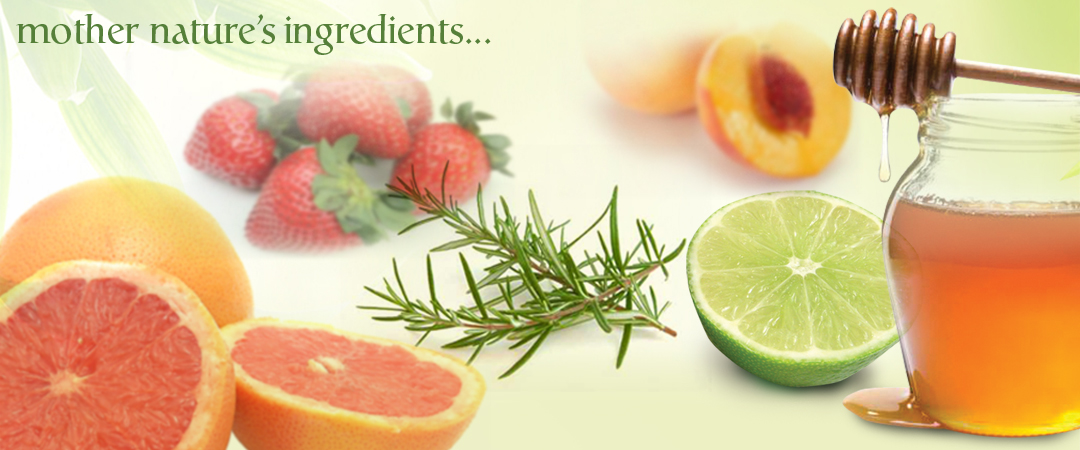 The skincare products in our Pixy Natural Skincare range are made lovingly by hand using no parabens, no SLS (sodium lauryl sulfate), no SLES (sodium laureth sulfate) using natural ingredients, no ingredients made from animals and we don't test them on animals. The use of packaging is kept to a minimum. Each Pixy product contains just the right amount of preservative needed to keep our natural skincare range in peak condition for you to enjoy.
Our Pixy body butters and creams are made with shea butter, cocoa butter and natural oils which are whipped up to be light, rich and creamy to gently moisturise the skin. Our lip balms, cuticle balms, hand creams and massage bars also contain beeswax which forms a barrier to protect the skin from the elements.
Sweet almond, apricot, and vitamin E oils moisturise and condition your skin. Some oils are rich in omega oils and vitamins to increase the elasticity of your skin.
The honey and goats' milk powders draw water to the skin to retain moisture, maintaining your skin's delicate pH balance. The essential oils add fragrance and their own distinctive effects – relaxing, soothing, healing, invigorating.
Some PIXY products are decorated with fruits and flowers – rosebuds, lavender flowers, dried peppermint leaves or studded with poppy seeds, loofah, candelilia beads and oatmeal to gently exfoliate.
Embracing the wisdom of thousands of years, PIXY's natural ingredients harness the benefits of Mother Nature's rich store of plants that promote well-being and regeneration.
Beauty Product Applications:
Mothers Nature Fake Tan Remover
Our Moisturising Lime Body Scrub Cubes, ideal for removing fake tan, are made from Mother Nature's purest ingredients, like nature's topical skin solution, when applied it melts into the skin ensuring lovely soft to the touch, silky, smooth skin.
Sun Burn Recovery
Our Aloe Rescue Gel and Soothing Body Balm are the perfect antidote to sunburn! Soothing, moisturising and repairing for your skin using Nature's Best ingredients.
Room Fagrance
A bath bomb in a small dish of warm water makes a lovely room fragrancer
Make-Up Brush Cleaner
Our soaps leave your make-up brushes clean and soft and deliciously fragranced!
Pixy Skincare Natural Ingredients
We thought that you might like to know about the wonderful ingredients that go into Pixy products. So, to help you out, we have compiled an alphabetical directory, that tells you about the goodness in our ingredients and how beneficial they are for you and your skin!
Aduki Beans
Originating from East Asia and the Himalayas. When using a Pixy massage soap bar, the Aduki beans feel like finger tips massaging your skin.
Aloe Vera Juice
Aloe Vera deeply rehydrates, controls bacteria, fungus and viruses, it is an antioxidant and also helps stimulate new healthy tissue growth six times faster than the normal rate.
Apricot Oil
Suitable for all skin types, soothes and moisturises irritated skin, improves elasticity, absorbs into the skin leaving no oily residue. It contains vitamin A, vitamin E, oleic and linoleic essential fatty acids.
Avocado Oil
Softens and soothes the skin, great for dry and ageing skin, reduces the occurrence of age spots, increases the production of collagen, penetrates to the deeper layers of the skin for better moisturisation, perfect for dry skin conditions. It contains vitamin A, vitamin D, vitamin E and sterolins.
Beeswax
Beeswax contains vitamin A, locks in moisture, softens skin and is a great barrier against dryness. It is non-allergic, deeply nourishes the skin, fosters skin cells and protects from free radicals and environmental factors, maintaining the skin's elasticity. It aids in skin cell development, heals and softens dry chapped skin without clogging pores.
Bergamot Essential Oil
It's aroma and disinfectant properties inhibit the cause of germs that cause bad body odour, it heals cuts and bruises and prevents infection, it helps scars and marks on the skin disappear and balances the distribution of melanin in the skin, it's therapeutic scent calms and lifts the mood.
Black Pepper Essential Oil
Helps increase perspiration for natural skin cleansing, flushes toxins and bacteria, inhibits spots, neutralises free radicals to assist with anti-aging.
Borage Seed Oil
A natural oil and a rich source of GLA, an essential fatty acid that keeps skin healthy, restores moisture, smooths dry and damaged skin, provides relief to sensitive skin disorders like eczema, keeps skin soft and supple.
Butter Milk Powder
Buttermilk Powder contains the gentlest of exfoliators, lactic acid, that loosens and dissolves dead skin, gently buffs away and moisturises at the same time, soothes irritations, leaving a healthy glow to your skin.
Calendula Oil
Perfect for sensitive skin, Calendula is a gentle skin healing herb, very kind to sun burnt or dry skin, inhibits fungal growth and infections.
Castor Oil
Penetrates deep into the tissues of the skin, softens scar tissue. With a high content of Omega 9 it detoxifies and stimulates healthy cells while dissolving unhealthy cells. Contains ricinoleric acid which inhibits many viruses and bacteria in the skin preventing infection.
Cedarwood Essential Oil
Helps cure greasy skin where the skin produces too much sebum, heals and tones skin tissue, aids in the removal of toxins, water, salt and fat from the skin, inhibits fungal growth and infections.
Clary Sage Essential Oil
All round skin protector against bacteria, kills bad body odour, calms anxiety and creates a happy feeling, wonderful for skin and mind well being.
Cocoa Butter
Melts into the surface and underlying layers of the skin, inhibits the production of skin problems like eczema and dermatitis, helps prevent and treat stretch marks, promotes active healthy oxygen levels in the skin.
Cocoa Powder
High level of antioxidants enable skin cell repair, neutralise and prevent free radicals from damaging cells, flavanol improves the appearance of the skin increasing hydration and increases skin's defence against UV rays. Contains Vitamins A, B complex, D & E.
Coconut Milk
Being high in fat, it makes for the perfect cleanser as most dirt on our skin consists of oils, these oils bind to the fat content in coconut milk, leaving skin clean and fresh, antibacterial properties deep clean the pores, perfect for sufferers of acne, used every day it improves the overall condition of face and body skin, super for the prevention of dry skin.
Cypress Essential Oil
Tightens pores, protects against infection, removes body odour, balances perspiration.
Very therapeutic, prevents water retention, slows skin aging, enhances circulation, balances skin's moisture, eases muscle stiffness, boosts skin's metabolism by replenishing vital minerals.
Epsom Salts
Draws toxins from the body, exfoliates dead skin, reduces swelling of sprains and bruises, relaxes muscles, soothes aching bones and improves bad body odour.
Eucalyptus Essential Oil
Assists in healing and preventing skin conditions, deodorises and the scent is very beneficial for mental exhaustion.
Evening Primrose Oil
Powerful healing for skin conditions like eczema and acne, promotes skin cell structure, improves elasticity, balances skin's hormone, improves circulation. Contains gamma linoleic acid (GLA) and linoleic acid.
Fennel Essential Oil
Protects skin, flushes away skin toxins, enhances skin basal layer production, removes impurities, stimulates and tones the skin.
Frankincense Essential Oil
Has a rejuvenating, balancing and healing action on the skin, relieves muscular aches and pains, and has a wonderfully calming effect on the mind.
Glycerine
Suitable for all skin types, being a humectant it draws moisture from the atmosphere into the skin, prevents skin damage caused by toxins, nourishes skin and keeps it moisturised, helps slow down ageing.
Goat's Milk Powder
Soothes and moisturises the skin, casein minerals are easily absorbed by the skin and help to balance the skin's natural Ph, gently exfoliates dry skin. Contains Vitamins A, B6 and B12.
Geranium Essential Oil
Fights germs and infections, inhibits growth of fungus, soothes and cools, tightens pores and skin tissue toning skin, balances the production of sebum, stimulates and regenerates cell growth, restores skins vitality.
Grapefruit Essential Oil
Promotes removal of toxins and fights infections, stimulates skin functions, uplifts mood, protects wounds from being septic.
Honey Powder
Brilliant for the removal of bad bacteria, and inhibits bacterial growth, has the ability to attract and retain moisture in the skin, assists anti-ageing process.
Jojoba Oil
World's best oil that works with the skin's own natural oil, sebum. Being a non-greasy oil, it allows the skin to breathe and control moisture, contains superb anti-ageing benefits.
Lavender Essential Oil
Calms, induces sleep. Assists in all-over skin care, aiding blood circulation.
Lemon Essential Oil
Protects from bacteria, inhibits viral & bacterial growth, lifts skin improving elasticity, induces firmness and tones the body. Lifts mood.
Lemon Myrtle Essential Oil
Due to it's high content of citral, Lemon Myrtle Essential Oil works wonders for oily skin and acne, powerfully kills bacteria and fungal growth, it's strong scent improves mood and arouses feelings of well being.
Lime Essential Oil
Protects against viral infection, kills bacteria, fights infections, restoring skin back to health, great astringent that tightens the pores. Improves mood.
Macadamia Nut Oil
Suitable for all skin types, absorbs quickly into the skin and acts as an emollient to protect skin cells from deterioration, beneficial for older skins as contains palmitoleic which is present in sebum (we produce less sebum as we get older). Also contains omega 3 and omega 6, vitamin B complex, phosphorous, iron.
Mango Butter
Very rich moisture content, easily absorbed for soft and supple skin, conditions and hydrates the skin giving a youthful appearance, brilliant anti-aging. Neutralises toxins, generates skin cell renewal to prevent wrinkle formation, protects from sun damage, tightens skin and enhances radiance. Contains vitamins B,C,D and E.
Mica
Finely ground mica, with the beneficial effects of minerals produces an attractive, healthy sheen on the skin.
Neem Oil
Brilliant for dry skin and dry skin conditions, soothes cracked and traumatised skin, restores skin's natural elasticity, combats spots and acne promoting healthy skin and even skin tone. High vitamin E content.
Olive Oil
Naturally moisturises skin, strong antioxidants repair and renew the skin that has been damaged by sun exposure and day to day environmental damage, stimulates cells and makes skin firmer, smoother and healthier, promotes healthy oxygen for the skin, penetrates deep into the skin and provides a moisture shield to keep skin smooth and supple. Contains Vitamin A and vitamin E.
Orange Essential Oil
Soothes and protects against septic invasions, uplifts mood, removes toxins and aids skin's immune system, prevents breakouts of spots.
Patchouli Essential Oil
Scent calms and uplifts mood, soothes inflammation from skin trauma, heals scars and after marks, promotes cell growth, drives away body odour, removes toxins, kills fungi.
Peach Kernel Oil
Contains polyunsaturated fatty acids for anti-aging skin care, light and easily penetrates skin tissue, rejuvenates dry and sensitive skin, nourishes skin cells making it more supple and youthful in appearance, high content of vitamin E works as an antioxidant eliminating toxins and free radicals, maintains skin's elasticity and promotes healthy skin cell growth. Contains Vitamins A, B and E.
Peppermint Essential Oil
Protects from infection, lifts skin, induces firmness in muscles, warming, stimulates, promotes good perspiration, improves foot odour.
Petitgrain Essential Oil
Protects against infection, clears up greasy skin, its scent calms and soothes the mind and relaxes the body, drives away bad body odour, reduces excessive perspiration, and tones the skin.
Rhassoul Clay from Atlas Mountains in Morocco
Extremely absorbent, much more so than other cosmetic clays, Moroccan Rhassoul clay is probably one of the most perfect clays in the world, ideal for all skin care and dermatological uses, cleanses, removes impurities, nourishes with ions and minerals and conditions the skin, therapeutically improves the texture of the skin.
Red Clay from Morocco
Suitable for all skins, gently draws and absorbs impurities and oils from the skin, stimulates circulation, powerful astringent for oily skin, gently exfoliates dead and dry cells, works wonders for acne and skin blemishes, detoxifies the skin and combats grease and dirt.
Roman Chamomile Essential Oil
Very kind and beneficial to sensitive skin, soothes and calms the skin and prevents infection, releases toxins, prevents fungal growth, therapeutic scent relieves stress and nervous tension.
Rosemary Essential Oil
Stimulates natural cycle of the skin, deeply disinfects allowing the skins natural rhythm to heal and nourish.
Rosehip Oil
Well known for it's anti-ageing properties as well as for regenerating dry and damaged skin. It is beautifully light and non greasy, rich in Vitamin A, omega 3 and 6 essential fatty acids.
Sandalwood Essential Oil
Cools and soothes the skin, contracts and tones pores and tightens skin, helps to fade away blemishes and spots, soothes inflamed skin keeping it fresh and cool, deodorises body odour, therapeutic scent calms the mind.
Shea Butter
Extracted from the nut of the Wild Karite Tree found in West Africa.Absorbs quickly leaving no greasy residue, returns skin's natural lustre, evens skin tone, moisturises and protects, vitamin F is vital for good skin balance, soothes skin irritations, penetrates deep in to the skin restoring elasticity, softening, revitalising and maintain skin's moisture. Contains Vitamin A, vitamin E, vitamin F, 3 essential fatty acids: linoleic, linolenic and arachidonic.
Spirulina Powder
Super food for skin, high source of protein enables healthy and nutritious skin feeding, flushes toxins, heals, cleans and sanitizes the pores.
Strawberry Powder
Protects and soothes the skin, acts as a wonderful toner, reduces the appearance of pores, prevents skin stains, improves skin's natural Ph balance and combats wrinkles.
Sweet Almond Oil
Rich in Vitamin E a powerful antioxidant that protect against pollutants and sun damage, helps reduce scarring, reduces inflammation, soothes and reconditions the skin.
Tea Tree Essential Oil
Inhibits bacterial and viral infections, stimulates the functions of healthy skin. Promotes skin well being, promotes absorption of skin nutrients, helps heal scars, promotes sweating, scent stimulates calmness.
Vanilla Powder
Neutralizes effects of free radicals & oxidants and repairs damages due to oxidation to the skin, boosts skin immunity, strengthens skin against drying and chapping assisting in the prevention of dry skin problems.
Vetiver Essential Oil
Calms inflammations, helps clear spots and heal wounds, tones up skin functions, therapeutic aroma arouses the senses.
Witch Hazel
Great anti-inflammatory for damaged skin, protects against cell damage, soothes and calms skin, locks in moisture.
Ylang Ylang Essential Oil
Brilliant for balancing sebum in the skin preventing greasy and spotty skin, antiseptic properties helps prevent blackheads and neutralises pores, uplifting scent that calms the senses.
Yogurt Powder
Skin nourishing, exfoliates without being abrasive, cleanses and moisturises allowing for skin cell regeneration.